Introduction
You don't always want to spend a little fortune on décor for an anniversary at your home. Here are 5 simple Anniversary decoration Ideas you can do at home.
And other times, you wish for something more distinctive and personalized to honor a loved one.
If you're planning to Celebrate Valentine's day, we suggest doing some DIY labor to get the decorations going. In this article, we have mentioned simple dinner decoration ideas you can do at home.
5 Simple Anniversary Decoration Ideas You Can Do at Home | DIY Décor 2022
Following are the basic anniversary decoration ideas you can do at home:
Love- wall hanging
Steps to make Love wall hanging:
Step1: Draw and cut out two "Love" tags from glitter paper. And a few hearts as well.
Step 2: Now, take a stick, paint it white and cover it with red thread. Later cover it with silver thread as shown below.
Step 3: Now take coloured thread and hang one love tag on the stick. Later hang the hearts and the other love tag on the other side.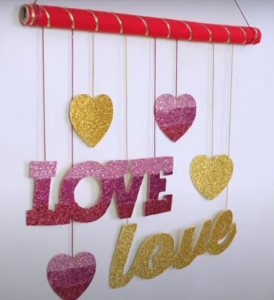 Love- wall pasting
Steps to make Love wall pasting:
Step1: Take 4 cardboards of the dimensions shown below.
Step 2: Cover it with white paper and cut out all the 4 alphabets.
Step 3: Now, cover all the alphabets with different color of wool or you can use the paints.
Step 4: Now paste it in a manner shown below you can also use "happy anniversary" garland along with it.
Cherry Balloon Garland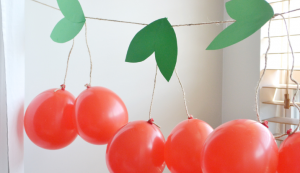 You may want to build this cherry balloon party garland if you want to test out a charming summertime concept for your party.
Green paper, red balloons, and twine are all that is required.
All the directions are available right here.
Requirements
Red or pink balloons
A balloon inflator
Twine
Green card stock paper
Tape or glue
Scissors
Pencil
Steps to make balloon Garland:
Step1: Here is a different way to use balloons if you have any leftovers. To make cherries, you'll need a few red balloons. To blow them up, use the accompanying balloon inflator.
But be careful not to completely blow them up. Being slightly rounded, cherries might just work if you blow them up halfway. Fix the ends.
Step2: Cut a brief length of twine. It is around 18 inches long. Trim any extra string after tying each end to the balloon's tip.
Step 3: Next, cut a long piece of string that will be the length of your finished garland. Using command strips or thumbtacks, attach them to the wall.
Step 4: Each double "cherry" balloon should be wrapped around the rope used to hang the garland. They ought to be balanced and not lean to one side.
Step 5: Then, on a piece of green cardstock paper, sketch a few leaves and cut them out. If you'd like to add some variation, give the leaves additional stem features. Attach the two leaves with glue. Use tape or hot glue to attach the leaves to the front of the garland.
Another choice is to fasten the leaf by punching a hole in the bottom of it, then tying it to the garland.
Step 6: Now, hang the happy anniversary Garland alongside. You can either purchase it or make it yourself.
Candlelight dinner in your balcony or Garden
The best thing one could do is prepare a candlelight dinner for the anniversary. You can prepare this candlelight dinner in your garden or balcony. All you need is the material.
Requirements:
Roses/ flowers
Lights
Table (small)
Grass carpet
Cushions
Candles
Candle holder
Steps to decorate the bed with rose petals
Step 1: If you are going to prepare this dinner on your balcony, take a grass carpet but if you are doing it in the garden then you don't need one.
Step 2: Take a small wooden or glass table that fits best to your dinner place. We don't want chairs for this so make sure the table is small so that you can have dinner on the floor.
Step 3: Take a light and decorate it around the balcony. If you are doing it in a garden you can place the lights on flower pots.
Step 4: Now take a beautiful flower and a candle holder and place it on the table.
Step 5: Now, place the cushions around the table and put the plates and required stuff on the table.
Step 6: Now, light up the candles and light. In the end, your table should look like this. Also you can hang a happy anniversary garland somewhere on the lights or railing.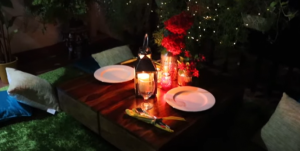 Decorate The walls and Table for anniversary
To give your room a Romantic touch, you can prepare
Heart-shaped balloons (white and red)
Pup (to fill the balloons)
Love balloon
Candles as shown in the below images
Rose petals
Roses
Step 1: Take lots of white and red heart-shaped balloons.
Step 2: Fill a love shaped balloon.
Step 3: Make a heart around the love balloon.
Step 4: Tie three balloons together prepare at least 6 sets and decorate them in a way as shown below.
Step 6: Now, decorate your side table. Make a heart from the rose petals. And place the candles around the heart and at the corners of the table. Place the roses at the side of the heart.
Step 7: Light up the candles and spread the balloons around the table. Put the plates and the required stuff for dinner.
Step 8: On the wall that you previously decorated, place the lights around the balloons to give it a beautiful look.
Conclusion
Are you feeling motivated?
Have you found all you require for decorating for your anniversary?
While some are undoubtedly simpler to construct than others, we're confident you'll find something to fit your preferences, crafting time constraints and ability level.
If you have any new ideas, you would like to share with our reader's Comment below and let us know.