Introduction
You don't always want to spend a little fortune on décor for house gatherings.
And other times, you wish for something more distinctive and personalized to honor a loved one.
If you're planning a house party, we suggest doing some DIY labor to get the celebrations going. In this article, we have mentioned simple house party decoration ideas you can do at home.
5 Simple House Party Decoration Ideas You Can Do at Home | DIY Décor 2022
Following are the basic house party decoration ideas you can do at home:
Summer pinata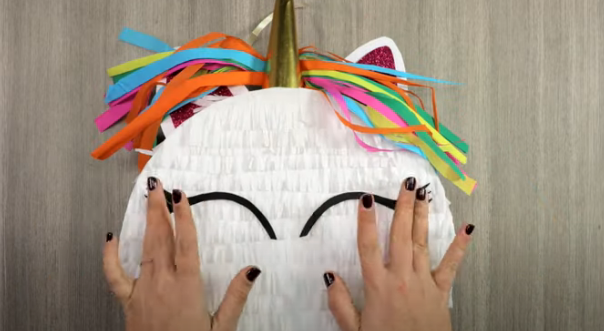 Kids' parties require pinatas! You can make them if you have a little yard (or even if you don't), and the kids will enjoy trying to bash them open to see what candy falls out. Undoubtedly, there will be a mess, but cleaning it up will be far more enjoyable.
Requirements:
Chipboard or lightweight cardboard
Masking Tape
Pencil
Tissue Paper
Glue Stick or Hot Glue
Scissors
Pipe cleaner (for hanging loop)
Steps to make summer pinata:
Step 1: Draw a basic shape twice, followed by a long strip that is as thick as you want the sides to be.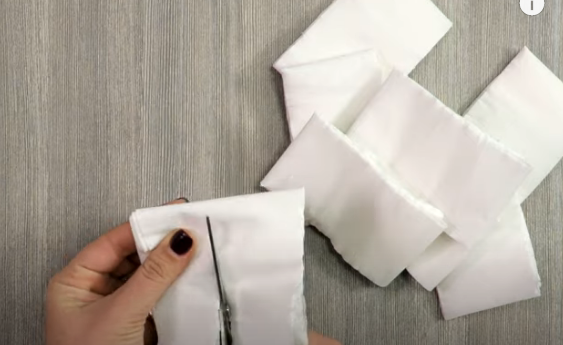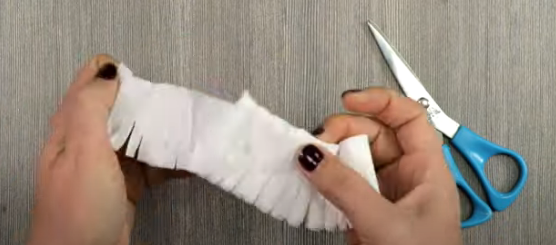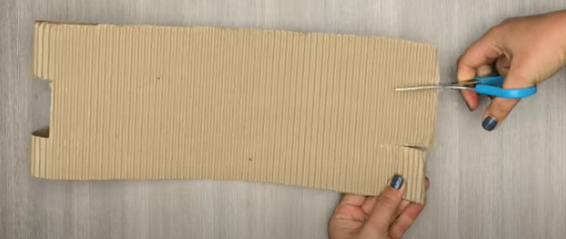 Step 2: Start holding objects in place by using masking tape.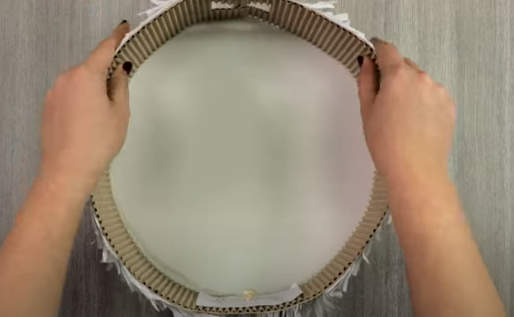 Step 3: Don't forget to cut space for the sweets to fit into and a few holes for the pipe cleaner loop to pass through at the top.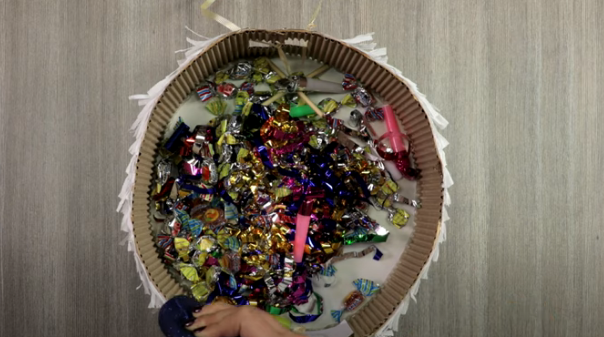 Step 4: Glue down a layer of tissue cut into simple shapes using a glue stick or hot glue.
As a result, the fringe appears fuller, and the structure is hidden.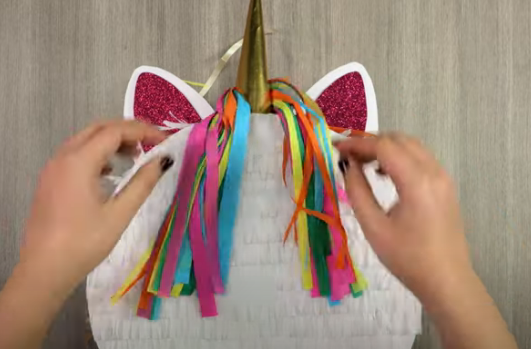 Step 5: Fringe rows are added in ascending order, beginning at the bottom.
Image Source: DIY Labs
Paper chain backdrop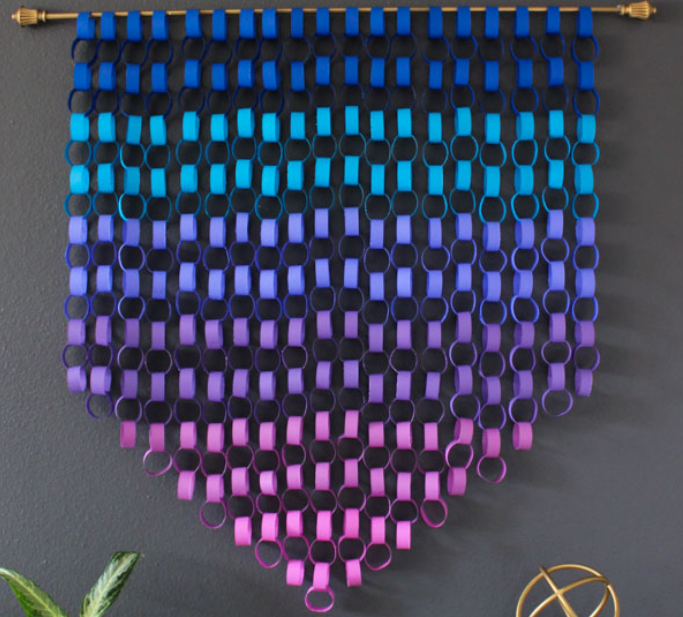 Paper chains can be used to create another beautiful photo backdrop.
They are adorable!
Additionally, it will appear even prettier if you use colored paper for an ombre effect.
Check out the Design Improvised tutorial.
Requirements:
Coloured Craft papers
Glue
Scissors
Tape
Stapler
Steps to make summer pinata:
Step1: In lieu of using a ruler and scissors, a paper cutter-like fringing tool is particularly useful because it allows you to quickly cut numerous uniform strips.
Step 2: It is incredibly simple to produce a chain without having to worry about glue drying out when using a handheld stapler.
To make the staple invisible, simply slide it behind the ring.
Image source: Diys.com
Hot air balloons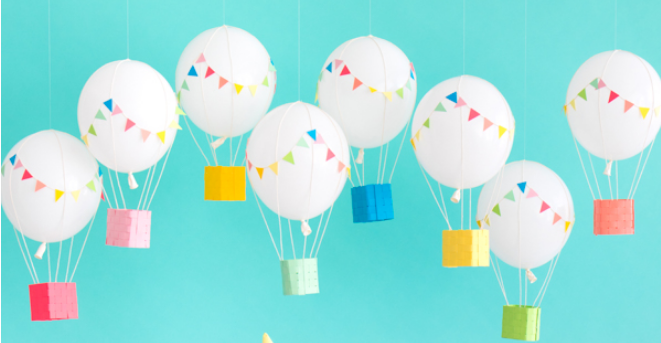 Regular balloons can be transformed into little hot air balloons with a few simple techniques.
The result is adorable, and your kids will like it.
Fair enough, we enjoy it as well; thus, we'd be content with these decorations for our birthdays.
Requirements:
Cardstock in rainbow colors
Ruler
Scissors
Twine
3m small wire hooks
Glue Gun (low temp)
White thread
Balloons (in white)
Steps to making hot air balloon
Step 1: Using a knife and ruler, cut cardstock into 1 1/2 by 11-inch strips.
Hot glue a strip on top of the start, middle, and end of five horizontally arranged strips.
To ensure that the three support strips are flush with the height, trim the cardstock.
Step 2: Join the cardstock piece's ends with hot glue to create a loop. Trim several 1″ by 2-1″ cardstock strips. To create a basket, weave the pieces together over and under one another.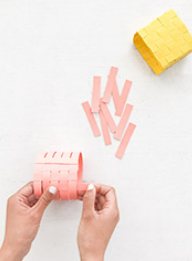 Step 3: Determine the length of three pieces of twine and cut them.
Locate the middle of the strands, then hot glue them together to form an asterisk.
Wrap the strings around a 12″ balloon that has been inflated and knotted.
Step 4: Knot the thread around the twine's middle. The middle of the twine should then be hot glued to the balloon's top.
Allow the adhesive to cool totally.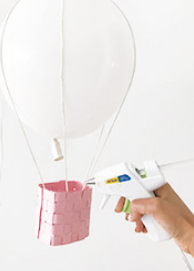 Step 5: Install a 3-meter hook on the ceiling.
After that, secure the hook's thread end. Six strands of twine should be evenly spaced out around the balloon, and the ends should be hot glued to the basket.
You're almost done!
Use cardstock to create small bunting for the balloons by slicing it into long strands that are 1″ tall.
To create a lot of triangles that are 1″ wide, stack a few strips and cut them diagonally.
Leave some room between each triangle as you hot glue it to the string.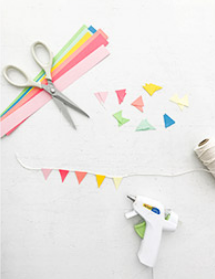 Step 6: Hot glue the bunting around the balloon's vertical thread in a scalloped fashion.
Once you've finished trimming, you're done!
Image source: Ohhappyday.com
Cherry Balloon Garland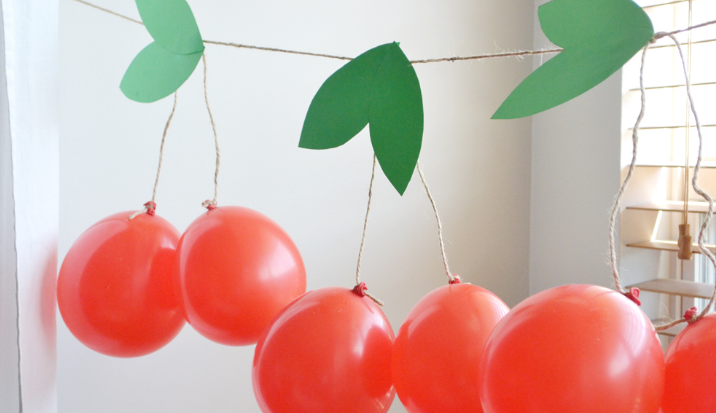 You may want to build this cherry balloon party garland if you want to test out a charming summertime concept for your party.
Green paper, red balloons, and twine are all that is required.
All the directions are available right here.
Requirements
Red or pink balloons
A balloon inflator
Twine
Green card stock paper
Tape or glue
Scissors
Pencil
Steps to make balloon Garland:
Step1: Here is a different way to use balloons if you have any leftovers. To make cherries, you'll need a few red balloons. To blow them up, use the accompanying balloon inflator.
But be careful not to completely blow them up. Being slightly rounded, cherries might just work if you blow them up halfway. Fix the ends.
Step2: Cut a brief length of twine. It is around 18 inches long. Trim any extra string after tying each end to the balloon's tip.
Step 3: Next, cut a long piece of string that will be the length of your finished garland. Using command strips or thumbtacks, attach them to the wall.
Step 4: Each double "cherry" balloon should be wrapped around the rope used to hang the garland. They ought to be balanced and not lean to one side.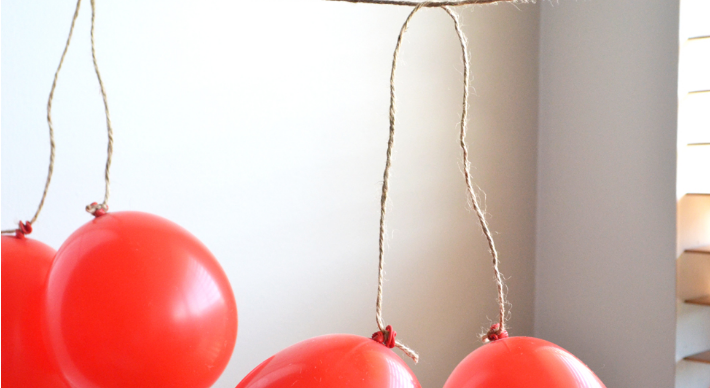 Step 5: Then, on a piece of green cardstock paper, sketch a few leaves and cut them out. If you'd like to add some variation, give the leaves additional stem features. Attach the two leaves with glue. Use tape or hot glue to attach the leaves to the front of the garland.
Another choice is to fasten the leaf by punching a hole in the bottom of it, then tying it to the garland.
Image source: Diys.com
Zig-zag Streamers
For simple house party decoration, you can make zig-zag streamers. They are easy to make and enhance the beauty of the room.
Requirements
Rainbow colored papers
Scissors
Glue Gun
Tape
Step 1: Start with a rectangle-shaped piece of colored paper in the first step.
Cut a strip about an inch wide, starting on one of the long sides, but stopping short of going through.
Step 2: Cut again after measuring approximately 2′′ from the first.
Keep making 2-inch cuts in the paper on that side.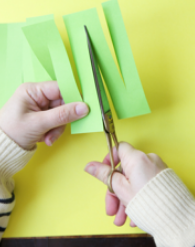 Step 3: Flip the paper over and cut halfway between the 2″ portions (but not all the way through).
It's done!
You have an accordion streamer to add festiveness to your gathering.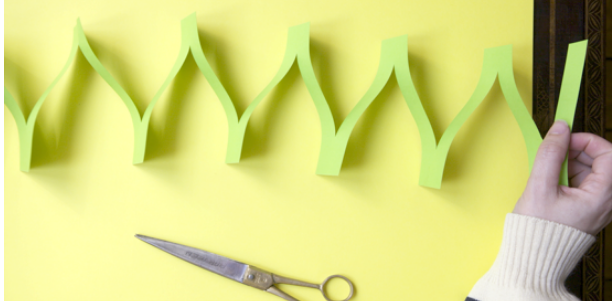 Conclusion
Are you feeling motivated?
Have you found all you require for the house party decor?
While some are undoubtedly simpler to construct than others, we're confident you'll find something to fit your preferences, crafting time constraints and ability level.
If you have any new ideas, you would like to share with our readers, comment below and let us know.