Introduction
India observes Republic Day as a public holiday to commemorate the day the Indian Constitution, which replaced the Government of India Act of 1935 as the country's governing law and transformed India into a newly constituted republic, went into force on January 26, 1950. We are mentioning some amazing and simple Republic day decoration ideas. Read along to know more.
The day commemorates India's transformation from an independent Commonwealth realm with the British Monarch serving as the Indian Dominion's nominal head to a fully sovereign republic within the Commonwealth of Nations with the Indian President serving as the Indian Union's titular head.
To celebrate this important day, here are some of the best and most simple DIY decorations you could do.
If you're planning to decorate for Republic Day, we suggest doing some DIY labour to get the decorations going. In this article, we have mentioned simple Republic Day decoration ideas you can do at home.
5 Simple Republic Day Decoration Ideas You Can Do at Home | DIY Décor 2022
Following are the basic Republic Day decoration ideas you can do at home:
Decorative item
2 Ice cream sticks
Flowers / Paper flowers
Glue
Step 1: Now take a white sheet of paper and make thin pleats of it as shown below.
Step 2: Now make similar piece of orange and green colour. Paste them al together as shown below.
Step 3: Now glue at the centre of orange paper.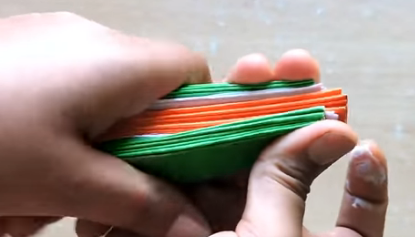 Step 4: Now at both the ends paste ice cream sticks as shown in picture.
Step 5: Now, spread it open with the help of sticks. Now paste the chakra at the centre. You can decorate it at your table.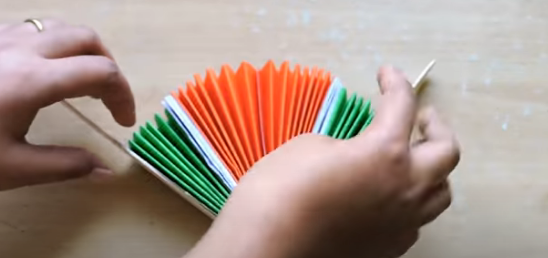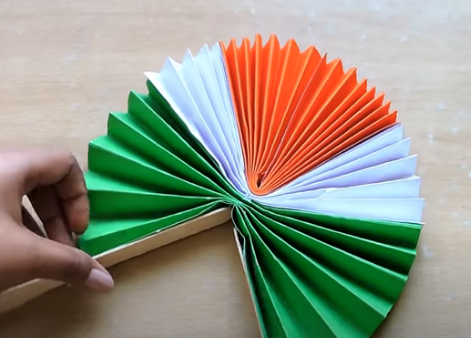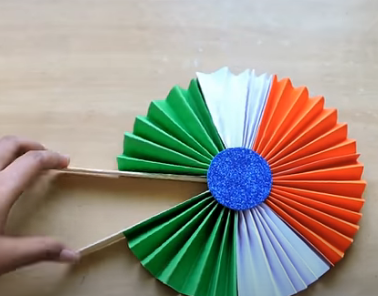 Flag
Stick/straw
Tricolour paper
Glue
Marker
Step 1: Now take tricolor strips as shown below and paste them along the edges.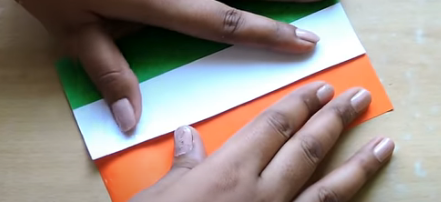 Step 2: Now, draw the chakra as shown below.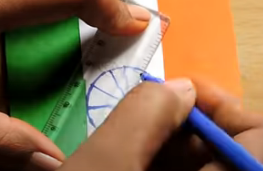 Step 3: Now, take a tricolor ribbon and wrap it over the straw with the help of glue. Now paste the flag over the stick. Your flag is ready. You can keep it in your pen holder or paste it on the wall.
Flowerpot
To give an aesthetic look to your Independence Day decorations, prepare this elegant flowerpot.
Cardboard roll
Tricolour wool
Flowers / Paper flowers
Glue
Step 1: Take the Roll and glue it. Now start with orange wool and roll along the cardboard. Now, equally, roll white and green thread as well.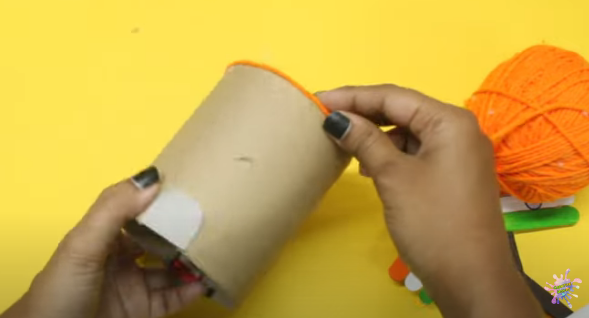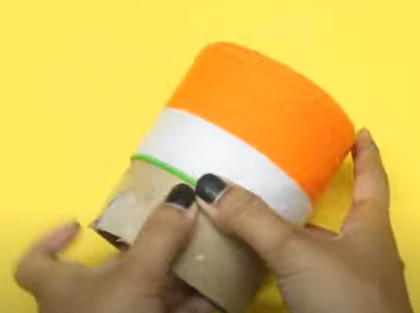 Step 2: Now make the Chakra with the help of white paper and pen. And paste it at the center.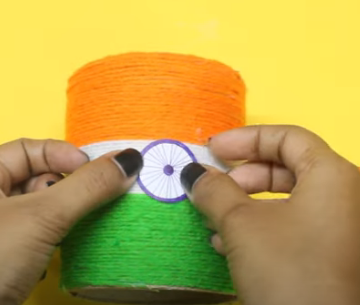 Step 3: Now, cover it from the bottom.
Step 4: Now, put the flowers in it. You can use real tricolour or paper flowers and place them into the pot.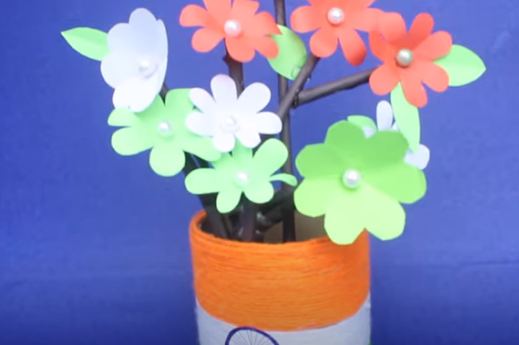 Flag
Crafting paper
Tricolour paper strips
Thin stick
Glue
Step 1: Now, take the paper as shown below and roll it around the stick.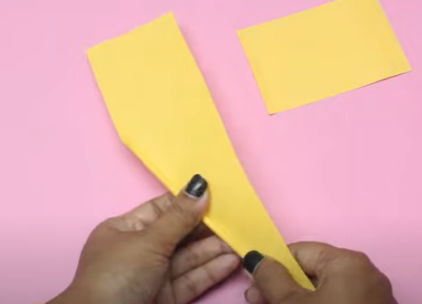 Step 2: Now, glue it from the edge. You can remove the stick.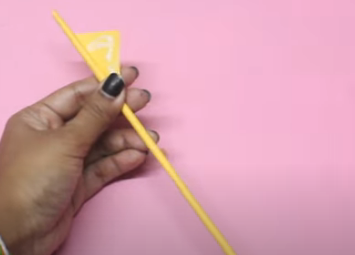 Step 3: Now paste the rectangular piece of paper on the stick. Paste the tricolor paper strips as shown below.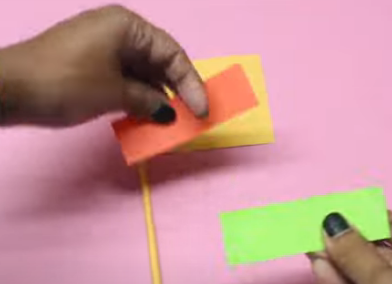 Step 4: Now make a tricolor pole stand set up and glue the flag over it.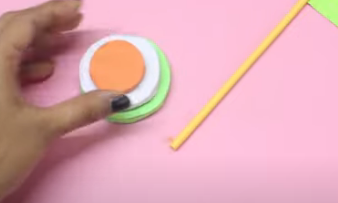 Step 5: Now, take fake grass as shown below and glue the flag on it.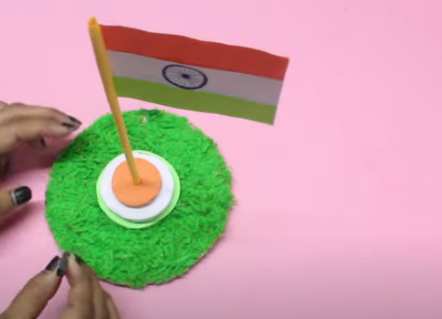 Step 5: Now, with the help of beads and straws, you can make the boundary as shown below.
Wall pasting
Tricolour wool
Pen
Scissors
Glue
Step 1: Now, draw a butterfly as shown below and cut it out.
Step 2: Now draw the segments as shown below.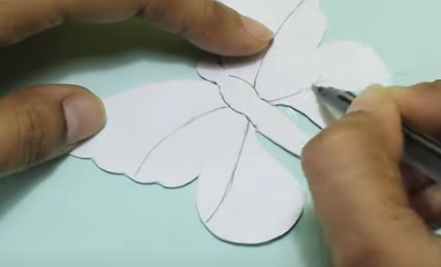 Step 3: Now, cut the tricolor wool in these small pieces separately.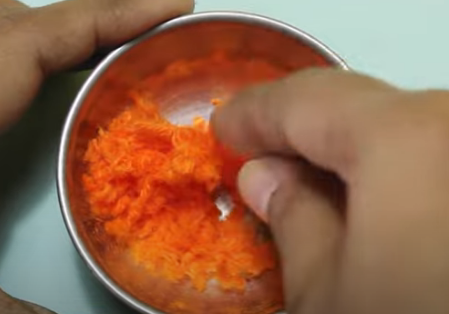 Step 4: Now paste different colour of wools in different segments of butterfly as shown below.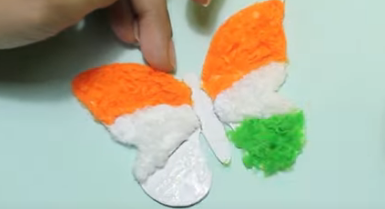 Step 5: Now, colour the middle part blue or you can paste wool there as well.
Conclusion
Hopefully, you have found whatever you were looking to make your Republic Day decoration even more enlightening. Doing something creative yourself adds more joy to the occasion.
All the above-mentioned DIYs will give quite an aesthetic look to your celebration and will make it more fun to celebrate.
Some DIYs are undoubtedly simpler to construct than others, we're confident you'll find something to fit your preferences, crafting time constraints, and ability level.
If you have any new ideas to share with our readers, Comment below and let us know.