Introduction
Among gamers and business workers, Discord is the most popular chat program. Gamers utilise this app's chat feature to interact with one another while playing games. As live chat is not available in all games, many gamers choose to use Discord. When individuals playing the same game get together, they may rapidly form groups or rooms and play together. Discord serves as a platform for connecting and distributing tasks among the organisation's staff and room members.
You may download videos on Discord in addition to creating rooms and chatting. Discord allows you to upload movies, pictures, and other media assets. However, the size of the file you're uploading or downloading is limited to 8 MB only. This implies that you won't be able to upload large videos to this site. If you're looking How To Download Videos From Discord, then this article is for you.
Steps To Download Videos From Discord
Step 1: It's easier to download a video from Discord; all you have to do is tap on the download icon you see over the video.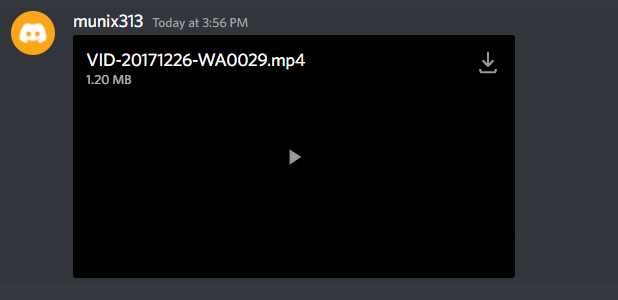 Step 2: Three options are available on the top panel. Select the "Download" option from the drop-down menu. The button has the appearance of a down arrow. As soon as you click the Download button, your video will begin to download.
Step 3: It's significantly easier to download a video if you're using Discord on a computer. Similarly, you can download the video on Discord from your mobile phone by clicking on the download button.
How Can You Upload A Video on Discord
Uploading a video on discord is as easy as downloading one. The only problem is that there is a limit to the size of the video you can upload. The limited size of the video should be 8 MB only. Now, in order to upload the video, all you need is to click on the plus sign, and you'll see an option to upload a file click on it and upload the file of the limited size.
Conclusion
In this article, we have outlined all the important details in order to help you download videos from Discord. If you have any other queries or suggestions, let us know in the comment area.