Introduction
Have you ever felt the desire to delete an account and remove all the accompanying information from the internet? It could be for any number of reasons. Perhaps you are dissatisfied with their services, have discovered a better alternative, or just no longer require them. So, cancelling your account on a site that you no longer want to use is good. This is because it allows you to delete sensitive personal information, financial details such as bank account or credit card information, transaction history, preferences, search history, and a variety of other data. When you've decided to break ways with a service, it's best to wipe the slate clean and leave nothing behind. The most effective method is to delete your account. However, this is not always an easy task. Some businesses have a convoluted mechanism in place that is designed to make it difficult to deactivate a user account. One such company is Amazon. It is quite simple to register a new account and only takes a few clicks, but it is similarly difficult to delete one. Many individuals are unaware of how to remove their Amazon accounts, and Amazon does not want you to know. We'll walk you through the full process of deactivating your Amazon account step by step in this article.
Steps To Delete Your Amazon Account
Close Your Amazon Account
You can close your account by following the simple steps mentioned below:
Step 1: Visit Close Your Amazon Account
Step 2: Login to your Amazon account you want to close
Step 3: Choose a reason for account closure, and click on close as shown below:

Step 4: A confirmation mail will be sent to your registered email ID or via SMS to your registered phone number; you must reply to that mail within five days. The mail will look something like this: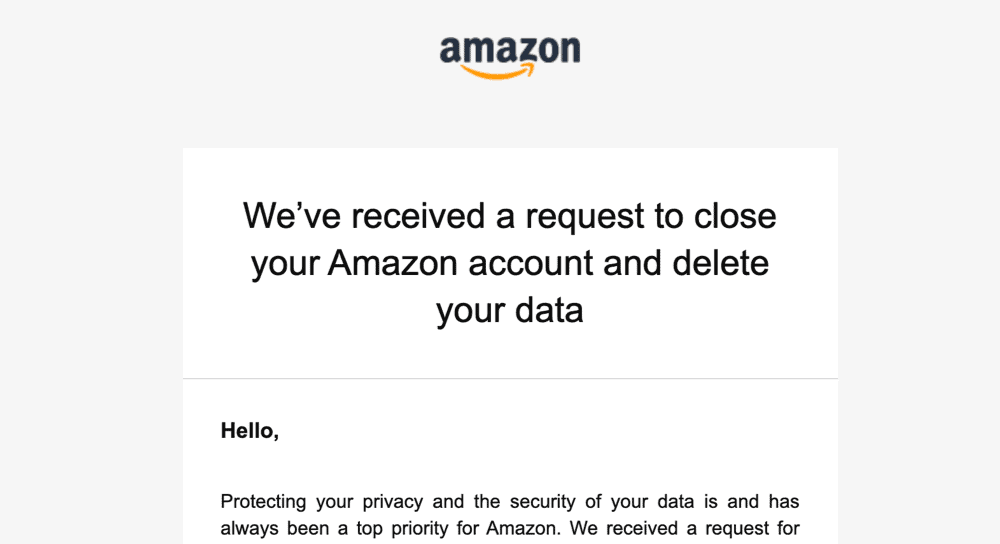 If you scroll to the end of the email, you will find a button to confirm; press it and confirm: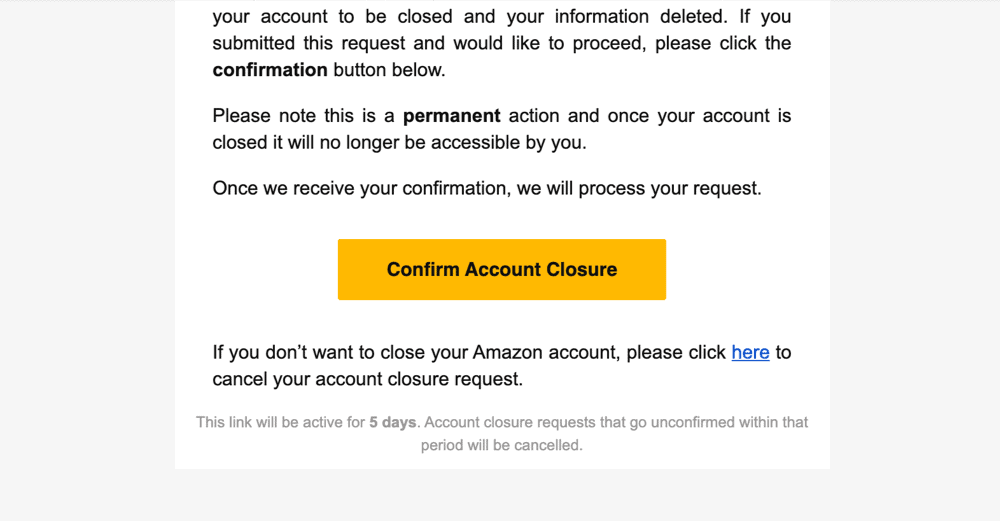 Once confirmed, you will be taken to the confirmation page as shown below:

Contact Amazon Support
Step 1: Log in to your Amazon account and go to the bottom of the screen.
Step 2: Under the Browse Help Topics heading, click on Customer Service and click on contact us.
Step 3: Now, you can either choose the Chat right now option or Have us call you an option. You can choose any option which suitable for you.

Step 4: Let the customer support know your issues and help you out in deleting your account.
Conclusion
In this article, we have outlined all the required details to delete your Amazon account. Sadly, there is no direct way to delete your Amazon account. If you have any other issues or ideas, let us know in the comment area.