Introduction
Videos are widely considered as one of the most powerful and engrossing methods of disseminating information. People of many niches and genres enjoy video content these days, from instructional and DIY videos to sales and marketing methods.
Many websites and social media platforms now include videos as part of their content. Now and then, we feel the need to download a video so that we may watch it whenever we want without worrying about slow internet or annoying buffering.
Some websites allow you to download the video, but the majority do not. These kinds of websites want you to spend more time on them. Some websites and platforms allow for downloading but exclusively for their premium subscribers.
Any website's embedded videos can be downloaded in a variety of ways. We'll show you some of the best and most straightforward approaches in this article.
Steps To Download Embedded Videos
Following are the methods to download embedded videos:
Method 1: Use a Browser Extension
Numerous Chrome and Firefox plug-ins will automatically download any embedded video. One of the greatest ways to save an embedded video from any website is to use extensions. The following are some of the most commonly used extensions:
1. Flash Video Downloader: This Chrome and Firefox add-on supports practically all video formats and may be bookmarked. For Apple users, there is also a Safari version. This is a well-reviewed and well-trusted add on that allows you to download videos from any website. Although the Flash video downloader does not function on all websites, it is a fairly reliable video downloader.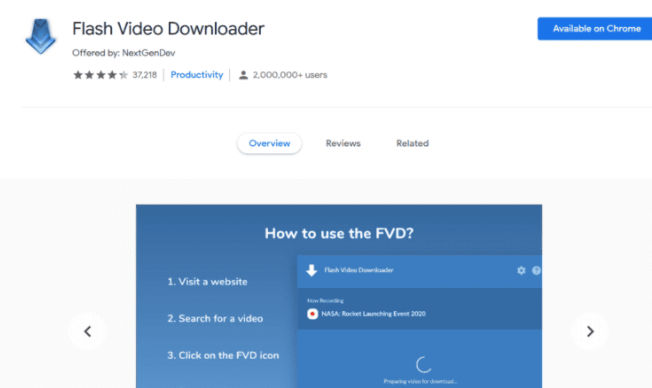 2. Free Video Downloader: This Chrome extension works on practically any website and is compatible with Chrome. It's possible that it won't operate on websites that utilize an extension blocker. FLV, MP$, MOV, WEBM, MPG, and other video formats are supported by this add-on. It promises to work with 99.9% of all video hosting websites.
3. Video Download Helper: This video downloading plug-in is available for Chrome and Firefox. Apple devices and browsers are also supported. It also offers a list of possible sites to work on. This program saves all of your videos in any format to your hard disk. The video conversion procedure is quick and simple to use.
Method 2: Directly Download the Embedded Video from the website
This is the easiest and quick way to solve your problem. You may download any embedded video on a website with only one click. You have to right-click on the video link and choose Save. You may also choose Save Video as an option and download the video in a compatible format. This approach does, however, come with one stipulation. This method function only when the video is in MP4 format and is embedded directly into the web page.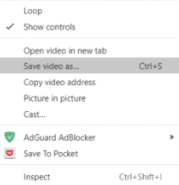 Method 3: Download Embedded Video From Online Portals
Another excellent alternative for downloading embedded videos from any website is to use this program. There are a number of websites working exclusively for video downloads. Clip Converter, Online Video Converter, Fetch File, and others are some of the greatest resources for downloading videos. Other possibilities include:
Savefrom.net: It's also an online portal that may be used to access practically any major website. all you need to do is copy the video URL and press enter. You can also use the URL of the homepage if you can't acquire the individual video URL. It is quite simple to use.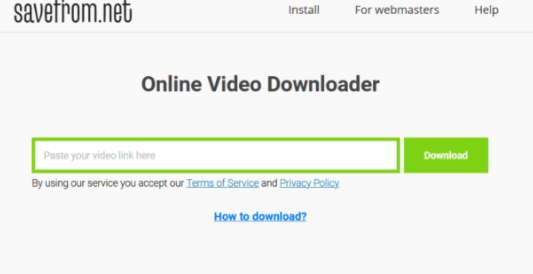 y2mate.com: It's a website where you can download videos. This works in the same way as the other two items on our list. You must copy and paste the movie URL before clicking Start. This will give you the option of selecting the video's quality. You can choose different resolutions from 144p to 1080p HD resolutions. After you've decided on a quality, click Download, and you're done.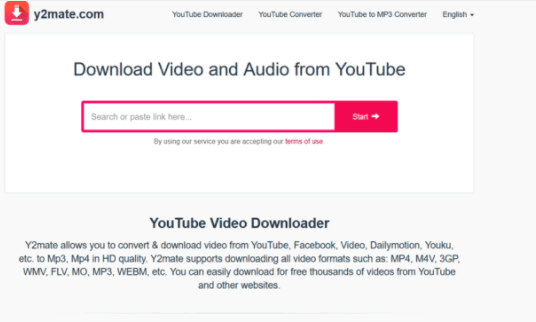 Method 4: Download Videos Using VLC Media Player
If you're using a laptop or a PC, you'll need to download and install the VLC media player. This media player can be used to download videos from websites. Here's how to go about it:
Step 1: To begin, go to the Media option in the top-left corner of your VLC window. You can now open the Network System by using Ctrl+N.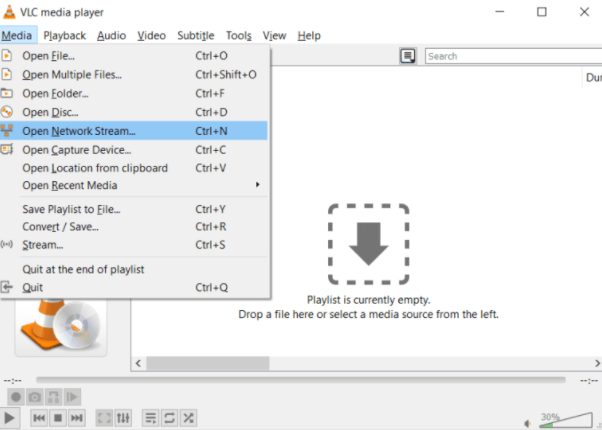 Step 2: A dialogue box will appear on the screen. Now go to the Network tab, type in the URL of the video you wish to download, and then hit the Play button.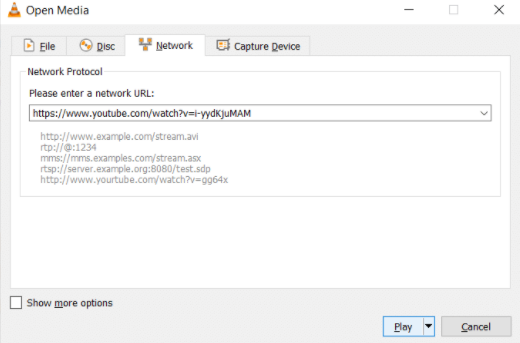 Step 3: Go to the View menu and select Playlist from the drop-down menu. You can also use the Ctrl+L keys. With your video listed, your playlist will now display—right-click on the video and select Save.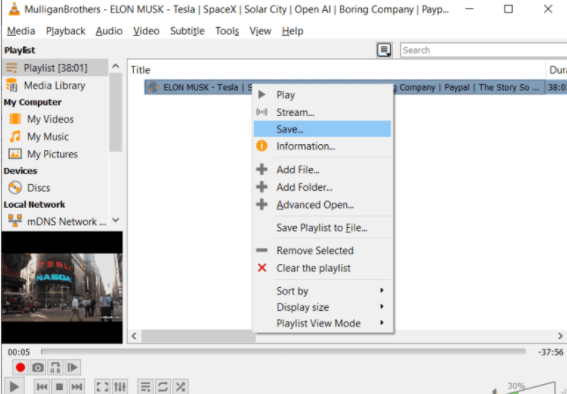 Method 5: Download Embedded Video Using YouTube ByClick
YouTube ByClick is a piece of software. It's an application that runs every time you go to YouTube. It starts running in the background once you've installed it on your device.
It automatically becomes active when you open YouTube and displays a dialogue box asking you to download a video. It's pretty simple. There is a free and a premium version of this app. You can use the free version, but it comes with limitations, such as the inability to download HD videos or convert them to WMV or AVI format. You can download any video from YouTube for the rest. It allows you to download only the MP3 audio file. If you want to upgrade to the premium edition, it costs $9.99. If you get the pro version, you can install it on up to three different devices. It also allows you to select a download directory for all of your files. This software is straightforward to use.
Method 6: Screen Recorder
If you don't want to go all the way to extensions and portals, or if you have trouble following the instructions above, you may always use the screen recording capability on your device. This feature is now available on all laptops, PCs, and smartphones.
This function can be used to record and save any video from any website to your computer or phone at any time. The only drawback would be the video's quality. The video quality may be a little low at first, but it will be good. This is an excellent approach for downloading small videos. Also, keep in mind that you'll need to record the video in real-time, which means you'll have to play it with sound. You should also be aware that any buffering or glitches will be noted. You may always edit and chop down the video if this happens.
Method 7: Free HD Video Converter Factory
To download embedded videos from a website, you can also install software such as this Free HD Video Converter Factory. You can also save HD videos with this feature. Here is a guide to how to use this tool:
After installing the application, launch it, and click on Downloader.
When the downloader window opens, select the New Download option.
Now copy the URL of the video and paste it into the Add URL section of the window. Now click on Analyze.
It will now ask you the resolution in which you want the video to be downloaded. Now select your desired folder for the downloaded video and click Download.
The procedure is the same as it is for browser extensions and other software. The only additional labour required is downloading and installing the application. However, this tool allows you to download videos, but it also allows you to modify and convert them. It's a video solution that comes in a single package.
Conclusion
This article has provided all the required details to download embedded videos. If you have any other issues related to this, let us know in the comment area.
Declaration
The whole purpose of this article is to educate people and not to cause any harm to society or any organization. The article is for educational purposes only. Copyright Disclaimer under Section 107 of the Copyright Act 1976, allowance is made for "fair use" for purposes such as criticism, comment, news reporting, teaching, scholarship, and research. Fair use is a use permitted by copyright statutes that might otherwise be infringing. Non-profit, educational, or personal use tips the balance in favor of fair use.