Introduction
Even though AM/FM use has decreased dramatically, some of us still love it. This could be due to the fact that not everyone enjoys the process of downloading music, looking for it, creating playlists, and other similar activities. It's a tad tedious and monotonous at times. Radio stations facilitate the entire process of discovering new music. Radio stations are ideal for unwinding, listening to fantastic music, or taking a break during a lengthy vehicle trip. This article will try to help you learn about the best radio apps for Android.
Best Radio Apps Android
Following are the best radio apps for android:
iHeartRadio
This software has the potential to be one of the best radio station apps on the market. It contains the best music channels, radio stations, and podcasts available. iHeartRadio offers thousands of live stations as well as thousands of podcasts. Not only that, but they also feature a wide range of playlists to suit all moods and circumstances. It's almost like a one-stop-shop for music fans who also enjoy listening to the radio. The Android application offers a visually attractive layout that is also incredibly user-friendly. This Android radio app allows you to listen to all of your local AM/FM radio stations in your area and city. Sports radio programs such as ESPN Radio and FNTSY Sports Radio provide live updates and discussions for sports fans. iHeart radio has the best channels available for breaking news and comedy shows. You can even make your own music stations with your favourite artists and songs. A feature called "iHeart Mixtape" is also available. This function allows you to discover new music every week based on your preferences. Unlimited skips, on-demand song play, downloading music offline to your Android, and radio replay are all included in the premium edition of iHeartRadio. The monthly cost ranges from $5.99 to $12.99. On the Google Play Store, the app has a 4.6-star rating. You can download it from here.
XiliaLive Internet Radio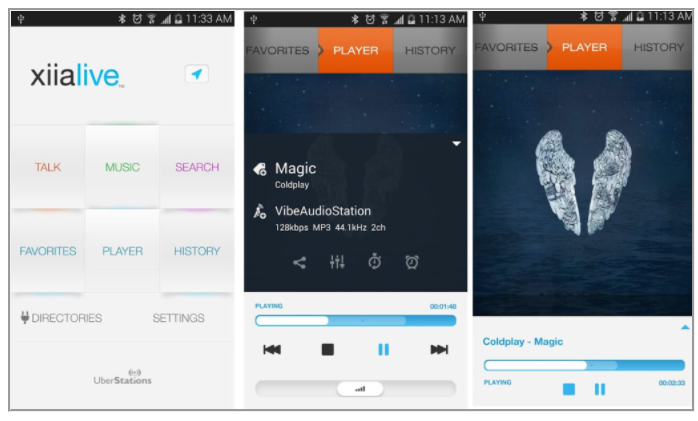 This, like the PC radio app mentioned before in this article, is an Internet radio station. Visual blasters produced by XIAA Live, a popular Android internet radio application. It has risen to the top of the market and gained enormous popularity as a result of the continuous radio experience it provides to music fans.
On the XIIA Live radio app, you may listen to over 50,000 live radio stations worldwide. The app's UI can be customized and personalized using a variety of themes and skins. All the usual Bluetooth options, preferred language settings, and a separate internal volume feature are all included. You can look up any song or artist and listen to their sons. They offer directories, like SHOUTcast, that can assist you in finding stations. Their notification noises allow you to keep track of the playback status without having to look at the screen. As a result, it's an excellent radio app to use at the gym or on your commute home.
The XIIA Live app makes it simple to share your favorite songs or radio stations with friends and family. These are only a few of the features; the Google Play Store lists all of the features of this radio app. It has a 4.5-star rating and excellent customer feedback. You can download it from here. It also has a paid pro version, that can be downloaded from here.
Radio Online- PcRadio
One of the highest-rated Android radio apps in the Google Play Store is. PC radio has a rating of 4.7 stars on Google Play and is one of the best broadcasting radio apps available. You can listen to music in any genre or mood, and the PC radio software will have a channel for it. This is a super-fast, lightweight radio player with extremely low battery consumption and headset control. Listen to high-quality music on the hundreds of radio stations offered by this Android radio app, even if your network connection is slow. So, if you're going on a picnic or a long, relaxing drive, Radio on PC radio is a great option. A search box is available, and you can even hunt for a specific radio station. You may also save your favorites and return to them later.
The software is available for free on the Google Play Store and contains advertisements. You have the option of removing them from in-app purchases. You can download it from here.
TuneIn Radio
The Tune-in Radio app for Android offers a wide range of discussion shows, including sports, comedy, and news. Radio stations will always keep you up-to-date with amazing music and interesting conversations to pass the time. The news you hear on Tune-In radio is 100% trustworthy and reliable. This app provides in-depth news analysis from sources such as CNN, Newstalk, CNBC, and local news from local news channels.
On a daily basis, they provide their users with the best podcasts and exclusive music. They bring you everything, whether it's top-rated podcasts or fresh discoveries. You may listen to over a million radio stations from across the world, including FM/AM and even online radio stations. Tune-In Premium is the paid version of the Tune-In radio app. It gives you an even better experience with commercial-free music and free news and access to all 1 lakh radio stations and the day's top podcasts. The premium edition even includes live sports news. It costs $9.99 per month to subscribe.
Overall, it's a fantastic Android radio app. It has a 4.5-star rating and can be downloaded from the Google Play Store. There are advertisements in the free edition, and in-app purchases are available. You can download it from here. You can download the paid pro version from here.
Pandora Radio
Pandora Radio has long been one of the most popular Android radio apps on the market. It allows you to listen to AM/FM radio stations and listen to a wide variety of podcasts while streaming fantastic music. They want to provide a tailored music experience for their users. You can create stations based on your favorite songs and listen to podcasts that interest you.
Voice commands can be used to control this radio app. They also provide customized recommendations to help you discover new songs and keep you up-to-date on what your favourite musicians are up to. "My Pandora Modes" is the name of the feature. You can switch between six different settings that represent your moods and the music you want to listen to. You may also upgrade to Pandora Premium, which costs $9.99 each month. This version will give you an ad-free music experience, unlimited skips and replays, greater audio quality, and the ability to download music to your Android smartphone offline.
Pandora Plus, which is priced at $4.99 a month and provides higher-quality audio and an ad-free experience, is a more affordable option. You can also listen to up to four stations without an internet connection.
The Pandora Android Radio app has a 4.2-star rating on Google Play and can be downloaded for free from here.
AccuRadio
With AccuRadio, a well-known Android radio app, you can listen to your Android phone's best and most recent music. The software is completely free and caters to music fans worldwide.
This radio app will provide music stations for all occasions. They cover over 50 genres, so you'll always be able to find something to fit your mood. Top 40 Pop Hits, Jazz, Country, Hip-Hop, Christmas Music, R&B, and Oldies are just a few of their stations. You can restrict a particular artist or song from a channel if you don't like it, so it doesn't disturb your flow. You can share your favorite songs and channels with your friends using the AccuRadio app with just a few clicks.
The app has a 4.6-star rating on Google Play and can be downloaded for free from here.
Conclusion
In this article, we have provided all the required details about the best radio apps on android. If you have any other queries, let us know in the comment area.