Introduction
Snapchat is the most popular and frequently used app in the world today. Everyone now uses Snapchat for recording films, taking images, sending snaps, and much more. Users also like to create Snap Streak by sending regular snaps to each other. Snapchat, on the other hand, still lacks some features that other apps have, such as the ability to easily unsend a snap or a chat. However, there is usually a workaround for such problems. You can easily remove the message if you are quick, but you should do so as soon as possible since, with the advancement of technology, chat messages or snaps are swiftly posted to an online server, and you may not be able to delete them from other people's chats. You must also remove the message before the other person sees it. Otherwise, your efforts will be in vain. Before proceeding, keep in mind that if you realize you want to unsend a snap or message after sending it, turn off your internet connection as soon as possible to prevent the message from reaching the online Snapchat server, and then proceed to the next steps; however, if the chat has already been delivered, you do not need to turn off the internet and can simply follow the steps below. We've outlined all of the methods to unofficially unsend a Snapchat snap.
Steps To Unsend a Snap on Snapchat
Step 1: Open Snapchat on your device.
Step 2: Long press on the snap you want to delete. A dialog box will appear. Click on the delete.
Step 3: Again, click on delete to confirm the deletion. Now, read what the message clearly says. Then, click on okay.
Step 4: Now, long press on the chat if you want to delete the chat. Click on delete.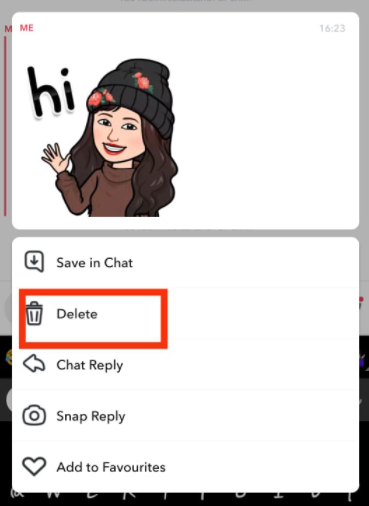 Step 5: Now, click on delete chat to confirm the deletion.
Conclusion
As you can see, we've provided all of the necessary methods for unsend a snap-on Snapchat; all you need to do now is be quick, as being slow may prevent you from erasing messages from other people's chats or the Snapchat server. Alternatively, if the person rapidly opened the chat and the snap, unsending the snap would be futile. Also, after you remove a message, others will be able to see that you have deleted something on your end.