Introduction
The iPhone provides one of the most advanced cameras, with dual-lens and many other features, because Apple phones are known for their technical prowess.
The Appstore has also developed great back-end support to keep up with its high-end iPhone technology. It offers the greatest photo editing apps with a variety of free options to serve its users with the most up-to-date technology.
For quick reference, a collection of best photo editing apps for iPhone devices is offered here for quick reference, saving you time from looking around. So let's get started.
Best Photo Editing Apps For iPhone
Adobe Lightroom
This full-featured photo-editing app for iPhone is available for free on the App Store and features a user interface that is both easy and powerful. The fundamental features, together with the default one-tap filter preset, allow for quick editing of images by fine-tuning colour, sharpness, exposure, contrast, and any other details that are useful for novices. Advanced users can download the premium version from the App Store for a fee. You can shoot in DNG RAW format and unlock sophisticated photo editing features with a $4.99 subscription in-app purchase. These editing features assist in making selective adjustments in Curves, Color Mix, Split Tone, artificial intelligence-based auto-tag function, perspective correction, and Adobe's Chromatic Aberration tool to automatically repair chromatic aberrations giving you more editing flexibility. The premium version also uses Adobe Creative Cloud to sync your adjustments between your iPhone, iPad, computer, and the web. You can find the App here.
LD: Typography & Photo Effects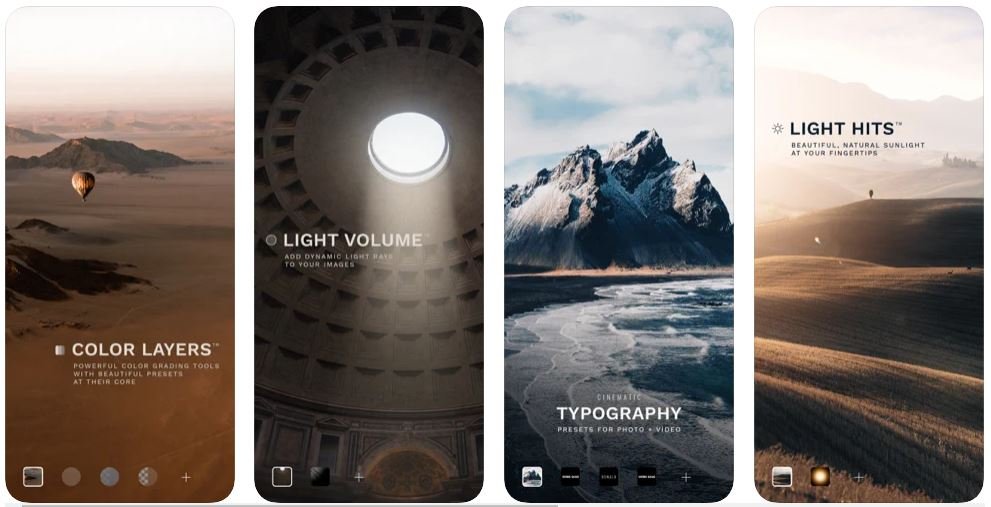 This app, which includes a basic set of utilities, is available for free on the App Store. In-app purchases for extra weather and light effects are available for those who want to take their images to the next level. It isn't just a simple editing program with functions like crop, contrast, and so forth, as many other apps are.
You may get the feel of high-quality, timeless antique photography with this app. Rain, snow, fog, or shimmering sunlight atmospheres, lens flares, and bokeh effects can all be used to give the setting in which you shoot yourself a dramatic sense. The Bokeh effect is defined as the overall quality of an image's blurred or out-of-focus area. Bokeh is a Japanese word. As previously mentioned, the app is free to download and includes a basic collection of standard tools and overlays; but, in order to obtain further effects, you must purchase premium filters through in-app purchases or subscribe to the premium service. You can also buy the premium filters entirely for a one-time fee and keep them for yourself to use whenever you like. This application is one of the best picture editing apps because of its ability to combine, blend, and overlay several effects. You can find the App here.
VSCO
This is another one of the best iPhone photo editing apps. The app is available for free download with in-app purchases. This tool also allows you to capture RAW photographs in addition to the standard JPEG images, with auto colour correction and compressed file sizes, resulting in a well-processed image.
A RAW image is one that has not been processed, allowing the photographer to make adjustments to settings such as exposure, white balance, and saturation after the image has been recorded. The white balance allows for more accurate colour reproduction in photographs.
There are both free and paid versions of this program. Let's say you choose the free version. In that case, you'll need to get the fundamental tools to edit the raw image, such as contrast, brightness, color balance, sharpness, saturation, texture, crop, skew, and the other 10 VSCO presets to pick from, each with its own intensity control.
Apart from the above free features, you can get more complex photo editing tools like split tone and HSL if you pay $20 per year for a VSCO X subscription. You'll also have access to over 200 other presets to choose from.
At first glance, this VSCO software may appear to be a highly confusing tool, but the photo editor app can glam up your photographs if you understand the basics. You may also save your photographs to your VSCO gallery for further use using this app. You can also share the photographs immediately from the app with everyone in your VSCO circle, on Instagram, or in any other way you want. You can find the App here.
Snapseed
Snapseed by Google gives you the option of using over thirty different editing tools and filters. Lens blur can be used to create Bokeh, adjust exposure, enhance shadows, regulate or fine-tune white balance, and much more.
The application offers a long list of functions where you may improve the sharpness of the image, the exposure, color, and contrast of the image while presenting various moods using pre-existing filters. You can convert your colored images to black and white using the filters to achieve a timeless antique style.
Its Portrait tool is ideal for achieving flawless, blemish-free skin and sparkling eyes. The healing tool allows you to remove undesired objects from your photo and is a great way to trim out unwanted elements. This Google picture editing powerhouse has become one of the most popular and unquestionably one of the best editing apps for everyone due to its numerous capabilities, ease of use, and abundance of photo editor tips and tutorials to help you get the most out of the software. You can find the App here.
Afterlight
Afterlight is an all-in-one, multi-purpose photo editing app with a number of features ranging from the most basic to the most advanced, including contrast, brightness, colour balance, sharpness, saturation, texture, crop, and skew.
The app is free to download from the App Store, but if you pay $ 2.99 for a monthly subscription or $17.99 for an annual membership, you'll have access to an entire library of 130 unique filters, 20 dusty film overlays, touch tool adjustments with simple on-screen gestures to change a part of the photo, RAW image support, and much more. The application provides a fun way to add visuals to your photographs by using customizable text and artwork. Image overlays and blends benefit from the double exposure tool, which adds a traditional touch and allows you to create a unique mix of photos. This software is wanted by both amateur and professional photographers because of its large and remarkable collection of photo editors. You can find the App here.
Photoleap Editor by Lightricks
It is more than simply a photo editing app, but an image editing tool with a professional and artistic touch. It is a smart, free tool that can turn your images from stock photos into works of art.
It allows you to mix or overlay multiple photos, superimposing one on top of the other to create a collage of special effects to enhance a shot. This photo editing tool for iOS users also includes incredibly active filters and masking techniques for speedy image editing. The app's creators have also included tutorials demonstrating their principles for users who want to study, understand, and use the app without difficulty. This has also aided the app's popularity and increased market demand. You can find the App here.
Conclusion
In this article, we have provided all the required details about the best photo editing apps for iPhone. If you have any other queries, let us know in the comment area.