Introduction
Safari is the default web browser on iPhone. The best alternative web browser for the iPhone is difficult to pinpoint because the iOS App Store is brimming with third-party browsers. There are two major considerations before we go to the iOS App Store. Is our quest for smooth, fast browsing or for the security of our personal data, with an emphasis on online privacy, or both? Both are the basic answers.
There are a variety of such browsers; some have a simple interface for quick web browsing, while others contain a variety of features and customizations to provide you with the finest web browsing experience possible. Safari is the default browser that comes pre-installed on every new iOS device. It has a lot of security flaws, so there are a lot of alternatives. In this article, we'll tell you about the best iPhone web browsers.
Best iPhone Web Browsers
Google Chrome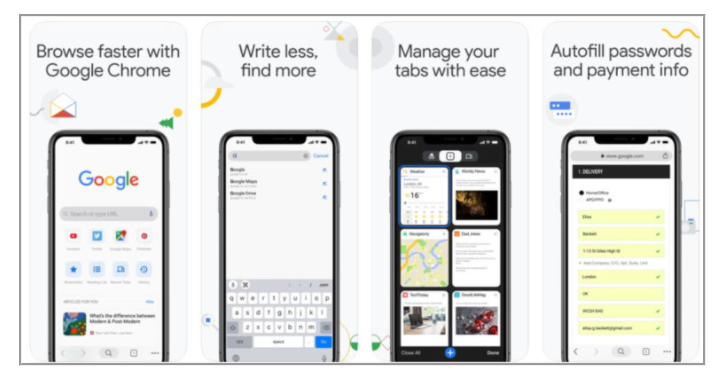 It was first released in 2008 and has since grown to become the most popular browser available for free download. With a variety of features, it is one of the best Safari alternatives. It supports cross-platform syncing and is ideal for those who operate on various devices with different operating systems, as it can sync not only with Windows and Android, but also with iOS.
You can rapidly add new tabs, reorganize them, and move between them in a 3D manager view with great tab management in Chrome. So, once properly synced, Google Chrome is extremely fast and gives you access to practically all of your account's data, including passwords, search history, bookmarks, open tabs, and so on.
Chrome comes with a built-in voice-search feature that allows you to search the web while speaking your search queries, even if you have an older iPhone that doesn't support Siri. It also allows for 'private browsing,' which discreetly uses the Chrome software's Incognito Mode to access the web.
Regardless of the advantages listed above, every system has certain disadvantages. For starters, it is not the default browser; second, it can be a CPU hog, lowering system performance and draining battery life. Furthermore, key iOS functions, such as Apple Pay and general integration, are not available in this browser. However, the advantages outweigh the disadvantages, making it one of the best iPhone browsers. You can download it from here.
Ghostery
It's one of the best iPhone web browsers, and it's ideal for individuals who are adamant about maintaining their anonymity and avoiding being bombarded with advertisements and other intrusions on their iOS devices. It uses DuckDuckGo as its default search engine for further anonymity rather than traditional search engines like Bing, Yahoo, or Google.
This browser also has tracker blocking capabilities and can disable cookies and caches with a single click. Unless you choose to allow Ghostery to construct its database, there are no signups or data collection by the app itself. Wi-Fi Connection Protection is a new feature added by the developers just for testing purposes. This function is intended to keep track of ad trackers in any app you use when connected to a Wi-Fi network.
The user interface of Ghostery is likewise not very pleasant. Though its team of developers initially envisioned the web browser as a tracker blocking add-on only, it is now one of the top privacy browsers for iPhone and a must-have for individuals who value privacy over performance and design. You can download it from here.
Dolphin Mobile browser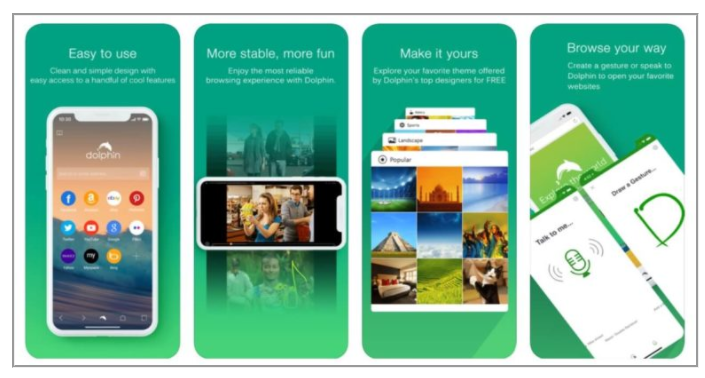 This is a free to download, feature-rich, and outstanding browser for iPhone users. It's a terrific alternative to the Safari web browser, with a lot of features, and it's also the most popular among its users.
It allows you to visit your favorite websites, navigate to a new webpage, and refresh the one you're on using gesture-based navigational control. You can open new tabs by swiping from right to left, and you can access bookmarks and navigation shortcuts by swiping from left to right. It can share bookmarks, history, and other web pages with Social Media sites, Notes sites, AirDrop, and other pocket alternatives via the Dolphin Connect function. It can also sync and save your password and a variety of other data across a variety of different devices, including mobile phones and desktop computers.
The enormous numbers of features that make it one of the finest iPhone web browsers and simplify the browsing experience also make its UI more difficult, primarily for those who are using it for the first time, for the same reasons. You can download it from here.
Opera Browser
Opera Browser was created for people who are constantly on the go, and it is regarded as one of the fastest browsers for iPhone users. It is perfect for individuals who are looking for speed and an easy-to-use interface. It is lightweight and built to run on minimal bandwidth.
It is a very new browser that debuted in 2004 and currently holds only 1% of the desktop web browser market. This browser is a basic open-source project that uses a proxy server to get web content. Opera Touch for iPhone offers a built-in crypto wallet to manage crypto-currencies such as Ethereum, with a stripped-back, mobile-first approach. Opera Touch additionally encrypts your data from beginning to end, protecting your sensitive information from the ever-watchful eyes of the internet. The iPhone browser also offers a quick action button for one-handed use, which is very useful on crowded busses and trains.
The only disadvantage of the Opera Touch browser that comes to mind is its inability to save required material in various folders and links so that users may readily refer to it when needed at a later date or time. So, if you're used to bookmarking things for later use, this isn't your browser. You can download it from here.
Aloha Browser
The quest for privacy-conscious users whose primary interest is and always has been privacy has come to an end. The main focus of the Aloha browser is privacy, and it uses an in-built, free, and unlimited VPN to disguise your online footprints. In 2020, it is one of the top safari alternatives.
This iPhone browser can show pages up to two times faster than other mobile browsers using hardware acceleration. Hardware acceleration is the process by which an application offloads some computational processes to specialized hardware components within the system, resulting in software that is more efficient than software running on the CPU alone. This web browser provides you ad-free, anonymous internet browsing. Aloha Premium, a premium version with more advanced capabilities for hardcore privacy-conscious consumers, is also available. The Aloha browser also includes built-in VR players that allow you to watch VR videos.
Its user interface is comparable to Google Chrome in that it is simple and straightforward. The web browser does not keep track of your activities, making it the ideal iPhone browser for working anonymously with no data traces. You can download it from here.
Firefox Focus
Firefox is a well-known brand, and its browser, Firefox Focus, may be downloaded for free. This web browser is ideal for folks who share their smartphones with others on a regular basis. Mozilla was at the forefront of the online browser revolution long before Chrome became popular.
This web browser focuses largely on privacy, so you won't need to go into incognito mode to avoid trackers. It prevents all sorts of web trackers without requiring any changes to its settings. You can sync your saved passwords, search history and bookmarks across all Mozilla-enabled devices with Firefox focus. All of Firefox's desktop features, such as private browsing, are carried over to iOS on your iPhone.
This private browsing mode prevents your browsing history from being remembered. It also gives you complete control over your online history by allowing you to delete any saved information and accounts with a single tap.
The integration of Touch ID and Pass codes is another privacy-related setting in Firefox that is quite important. As a result, if you want to access your saved data, Firefox will prompt you for a password or a fingerprint. With its built-in reader view, you can concentrate on your reading without being distracted by the distractions that it removes from the web page, allowing for distraction-free web page reading. It is not a heavyweight browser, but rather a very basic one with just an address bar, no history, menus, bookmarks, or even tabs. You can share a web link from Safari browser to Firefox browser on your Apple iPhone to prevent changes in the default browser. For iPhone users who want to hide their identity from the online world, there is a browser available that allows them to do so.
A major drawback of this web browser is the lack of history, menus, or even tabs. However, this can't be remedied if the primary demand is the need for the best secure browsers for iOS. You can download it from here.
Conclusion
This article has provided all the required details about the best iphone web browsers. If you have any other queries, let us know in the comment area.